Answer the 4:53 p.m. call of Tuesday January 12th...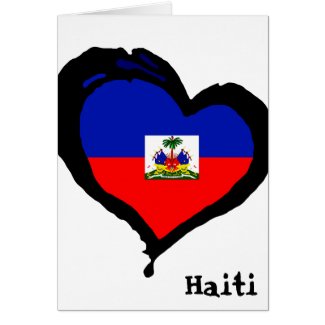 Last Tuesday January 12th at 4:53 p.m. CST a catastrophe of biblical
proportions struck Haiti.
The earthquake's epicenter was just 10 miles from Port-au-Prince,
its capital and home to a sixth of their population of 10 million.
T
he enormous loss of life is estimated to make this the worst natural disaster
of its kind in the Western Hemisphere.
Gone in an instant were their cathedrals and churches, clinics and hospitals,
their schools, many business as well as government and non profit buildings.
It's National Palace, Justice Ministry, Parliament buildings, main prison,
and police headquarters were reduced to rubble as well.
Their roads and infrastructure and even their main sea port and airport
were also heavily damaged.
Watching the coverage on both US and Mexican news channels I saw
the incredible amount of destruction, their makeshift clinics,
encampments and tent cities that sprung up everywhere.
I watched in horror as many survivors awaited in agony - many under
the rubble waiting for the rescue that would come too late.
It's been heart breaking to watch thousands of people go this long desperate
for water, for food and basic humanitarian assistance.
Sadly six days later many still spend their days scrounging for food,
and water than returning to their damaged homes or encampments with food,
and water to share with neighbors.
Some I saw stayed behind amid the stench of death and rubble to stand
guard over their meager belongings.
Years of tragedy have forged Haiti's national character – whose strength,
personal drive, and dogged determination comes from their history.
Haiti continues to survive and rely on their faith, fortitude and self-reliance
born of years of war, hunger, political corruption and a series of natural disasters.
I have also been seeing how these same people are taking matters into
their own hands; providing their own security in the make shift camps,
bartering and rationing what little they have to survive.
Those few lucky enough to have work heading for the marketplace each morning.
Others were helping search and remove and clear the tons of rubble that remain.
Tonight thousands of Haitians; including their president René Préval will
have nowhere to sleep, but sleep they must and they will get up tomorrow
to begin a new day and a new week… and continue writing the stories of loss,
and the triumph of the human spirit.
They are calling… and though they are working hard to survive and come out
of the rubble, they need us!
We must not just restore Haiti, but assist it in becoming the strong,
secure nation its people have always desired and deserve.
Let's answer their call and help them rebuild.
Together I am confident that we will.
You can text HAITI to 90999 and $10.00 will be charged to your phone bill with your
donation going to the American Red Cross.