Today is "Dia de los tres Reyes Magos"...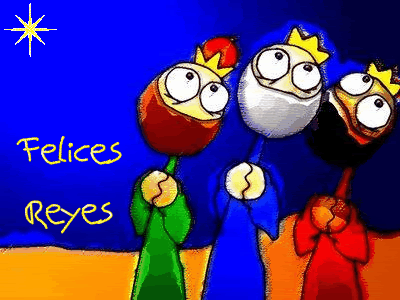 Today in the village we celebrate Epiphany –or el Dia de los Reyes Magos. It's twelve days after Christmas and the day when we celebrate Gaspar, Melchior and Balthasar bringing gifts to the baby in the manger.
Do you remember the story? They followed the star leaving everything behind to bring the baby Jesus gold, frankincense and myrrh.
The village church bells will begin announcing the new day at 6:15 for an early morning service. Soon after the service the children will return to their homes and gather around either the Christmas tree or their hand made nativity scene.
They've been anxiously awaiting the time to open the gifts that the three Wise Men have left for them. Typically the gifts are boots, shoes or clothing, or even books and school supplies. There's never been a Santa Clause in the village - and December 25th is a much more spiritual celebration.
Later on in the day we hold a parade of Kings, in which trucks and horses are adorned with ribbons and other colorful materials of either white, gold or silver in color.
Musicians have been playing all night and will be heard again throughout the day - with the "mariachis", and energetic village folks dressed as clowns, or in disguises they walk a short parade route giving candies to the children along the way.
Another tradition is the cutting of the "Rosca de Reyes", "King's threaded bread" which is a pastry or bread covered with sugar and fruit pieces. The "threaded bread" looks a lot like the Mardi Gras bread.
It will have a small plastic figure of a child or "monito" hidden somewhere inside. If you happen to find a "monito" in your piece of the bread, tradition says that you are obliged to invite your friends over for "Atole and homemade tamales" on Feb. 2nd or dia de la Candelaria. But I'll tell you more about that holiday on Feb. 2nd.
By the way Atole (pronounced ah-toll-eh) is a popular and delicious cornstarch based hot drink. It resembles gruel and the drink may be thick or thin depending upon a person's tastes.
Its one of my favorite drinks. Our village's atole recipe dates back to pre-Colombian times.
Make it a great Epiphany dia!